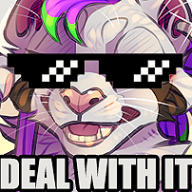 Growing VPL Member
VPL Member
It's me, KiRAWRa!
Seriously doubt anyone remembers me since I only posted once in a blue moon, but maybe you'll recognize me from Rescreatu or Aywas!
Anyway hey, it's good to be back!

I was cleaning out my folders this week and organizing my mountains of old VPS art from 2010-ish and it got me feeling all nostalgic. I went "gosh I sure do miss that VPL" and lo, it has resurfaced?? What timing!
Hope this place gets boppin' again.