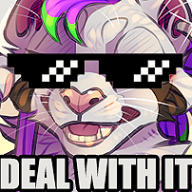 Growing VPL Member
VPL Member
No idea what the VPS market is like nowadays, so I'm just testing the waters here.
These were all made as part of a silly personal project but since I have no
actual
use for them, figured I could pass them off to someone who does!
This is a diverse set of pets intended as a starter pack for a new site, small project, or mobile/phone game. I'm selling them base price
uncolored
to help make them a bit cheaper/more affordable. I will consider selling smaller sets of at least 4 minimum, but priority choice will be given to those that wish to buy higher quantities.
Pets are listed for $30 each and come with:
400px source PSDs
200px PNGs
Base colorfill and shading
Design and image ownership rights
For an extra $10 each, I will color them!
+ Additional recolors are $3 each (ie: same markings in different colors)
+ Additional unique colors are $7 each (ie: all new markings in all new colors)

Small changes and additional edits can also be requested, feel free to ask for a quote 👍
All have been sold, thank you so much for your support! ♥
Thanks for giving this a look ♥
- KiRAWRa
Please do not message me with commission requests or job offers. I am not looking for any long-term work right now.
Last edited: