General Information
Elons are intelligent animals that inhabit the land of
Eliyo
. You can capture them in battle and raise them to be your own. Elons have personality that affects their day to day life including how they feel when you visit them. They also have needs, and if you don't take care of them they'll be sad and grow to resent you. On the other end you can visit and play with your pet in order to gain a higher relationship with them.
There are 8 elements found in Eliyo, and elons have 1 or 2 elements they have special ability with which determines their starting elemental strengths and resistances. Battling is turn based, take part in the battle arena to earn loot in battle and train up your elons!
In addition to battling, breeding is another big part of Eliyo. Each elon has a lineage and can take their colors from not only their parents, but their grand parents! This can make for some interesting and really fun offspring.
There are a lot of other things to do on Eliyo as well with even more to be released as Eliyo is still in beta. In addition to collection elons, you can also collect elon plushies! Add them to your collection and other players can see them from your profile. You can even write a little note for each item you collect.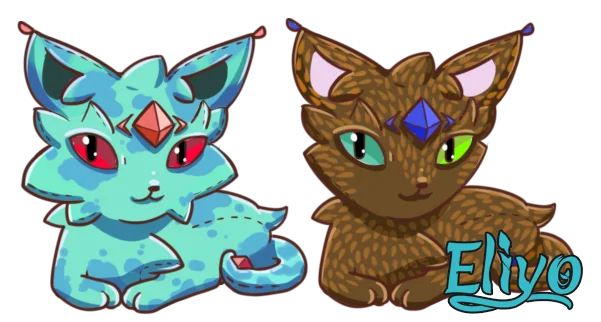 Start your adventure today!